COVID is the new normal and this time calls for every service to be online! So what is our medical fraternity up to, being the crucial one?
Jiyyo has an excellent answer to cover all your needs in the medicinal domain. Before we proceed any further let's make a pledge that we are going to knock this unknown enemy down with all the precautionary measures and guess what? Jiyyo has got you covered to accomplish this goal!
In these dynamic times of ever-evolving technology, our rural section is not behind as well, and we at Jiyyo believe that our rural partner holds the most important place in our infrastructure.
Let's go through a simple stat shared by Deloitte:
"Telemedicine is physician-approved, with 90% agreeing that virtual care is beneficial in terms of increased access, communication, and satisfaction. Sixty-nine percent of physicians are willing to use telehealth, up from 57% reported in 2015."
Telemedicine is the practice of taking care of the patients remotely where the doctor or the patient does not interact physically but through the means of technology TV, Mobile App, Call(Video Conferencing or audio-enabled calls).
Jiyyo as a strong telemedical player has introduced the below services that help the Doctors to grow and serve more patients in need and Patients to get the health-related issue consulted with highly qualified doctors at the ease of home(Local Place) with minimal/No traveling requirements for the consultation.

Now that we have a fair idea of how the telemedical industry operates, let's deep dive into Jiyyo's world of possibilities: Have you ever thought of a clinic without doctors? Sound interesting? Got questions?
Let's have a look at this imagination becoming reality:
1.) Jiyyo Mitra E-Clinics
Since the rural section of India suffers the most when it comes to the quality of healthcare, the problems of commuting to the cities and the time that the travel consumes are now resolved by the reach of Jiyyo in their own periphery.
Jiyyo has established the most cost-efficient E-Clinics for the healthcare sector in rural parts of India. Now, the patient just needs to walk in and have a video consultation with the doctor to get the e-prescription.
The e-clinics along with proving best to the rural society has proven to be a good source of economic development for our doctors and professional helpers in the medical domain.
Now that you have started knowing us lets have a walk through the most happening term 21st century 'App', we at jiyyo have got all your interests covered :
2.) Jiyyo Lyfe App - Consult Doctor Online
Jiyyo Lyfe App is now your new medical buddy, it goes where ever you go!
Are you At home? At the office? At the gym? and want the health issues to be resolved?
We have got a complete solution for you, just signup, pay, and book an appointment with the most qualified specialist doctors and all this is just a click away!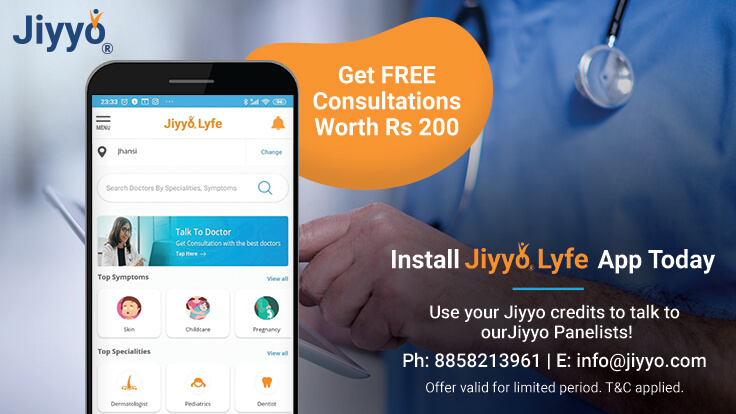 *Signup today and get Rs 200 worth consultation free at the peace of your home.
Are you a doctor and thinking what jiyyo holds for you? You work for us day in and day out and we are good at keeping promises, we have got everyone covered! Let's see how!
3.) Jiyyo Healthcare App
Jiyyo Telehealth App is available for all the doctors who wish to serve the patients in need online, increase their reach among patients, maintain patient records and give E- Consultation via video calling to their patients. The platform can also be used to refer patients to other specialist doctors.
Jiyyo healthcare app is a complete solution to assist the doctor's community. Enroll and get the benefits now!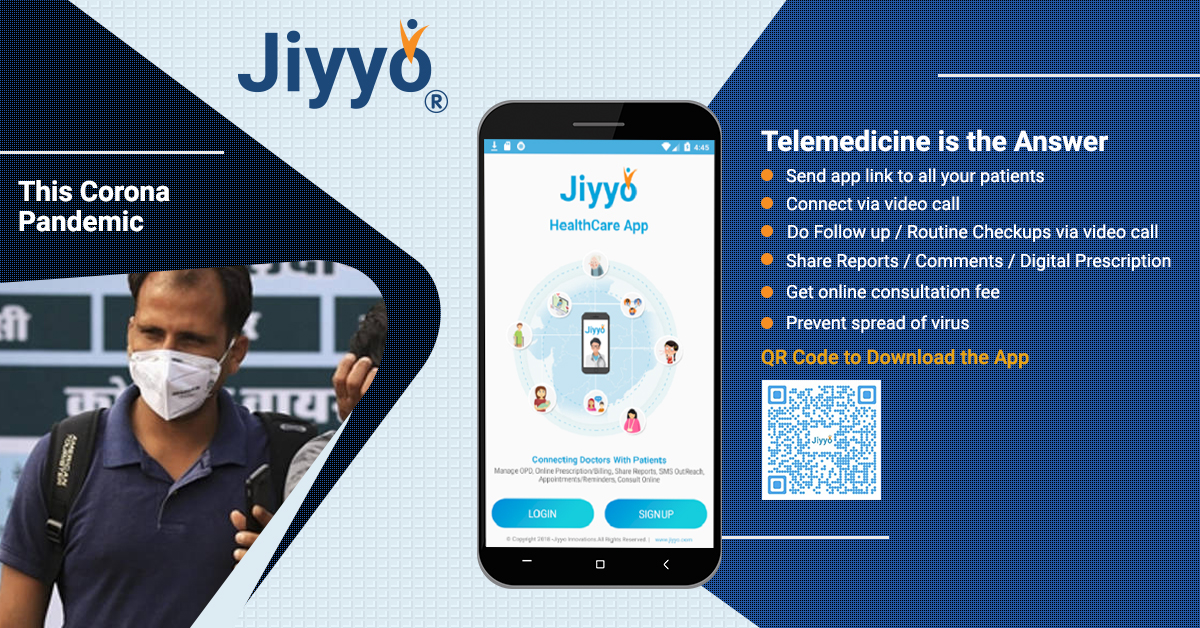 We at Jiyyo assure that we have got the solution for both patients and the doctors. Visit us at the below handles to connect and grow mutually :