India is all set to achieve yet another milestone towards the development, with now the health care facilities and tracking all being digitized.
The Government of India, during the Independence Day congregation, has launched the National Digital Health Mission (NDHM), an initiative to digitize the health records of all the citizens.
NDHM is aimed to bring a new revolution in India's health care sector with the use of technology prudently to reduce the challenges in treatment effectively and efficiently.
What is the outline for NDHM?
The NDHM is built around six fundamental blocks or digital systems – Health ID, Digi Doctor, Health Facility Registry, Personal Health Records, e-Pharmacy, and telemedicine – which will enable access to timely, safe, and affordable healthcare through a 'citizen-centric' approach.
As per NDHM, there would be a Health ID allocated for each Indian. The Health ID will work as a Health Account of every citizen.
The account will contain details of every test, every disease, the doctors you have visited, the medicines prescribed, and the diagnosis. Hence apart from convenience for the patient of not storing and carrying the health records physically, if implemented well, it can reduce overall healthcare expenses.
The NDHM also will allow patients to access health services remotely - through teleconsultation and e-pharmacies, as well as offer other health-related benefits.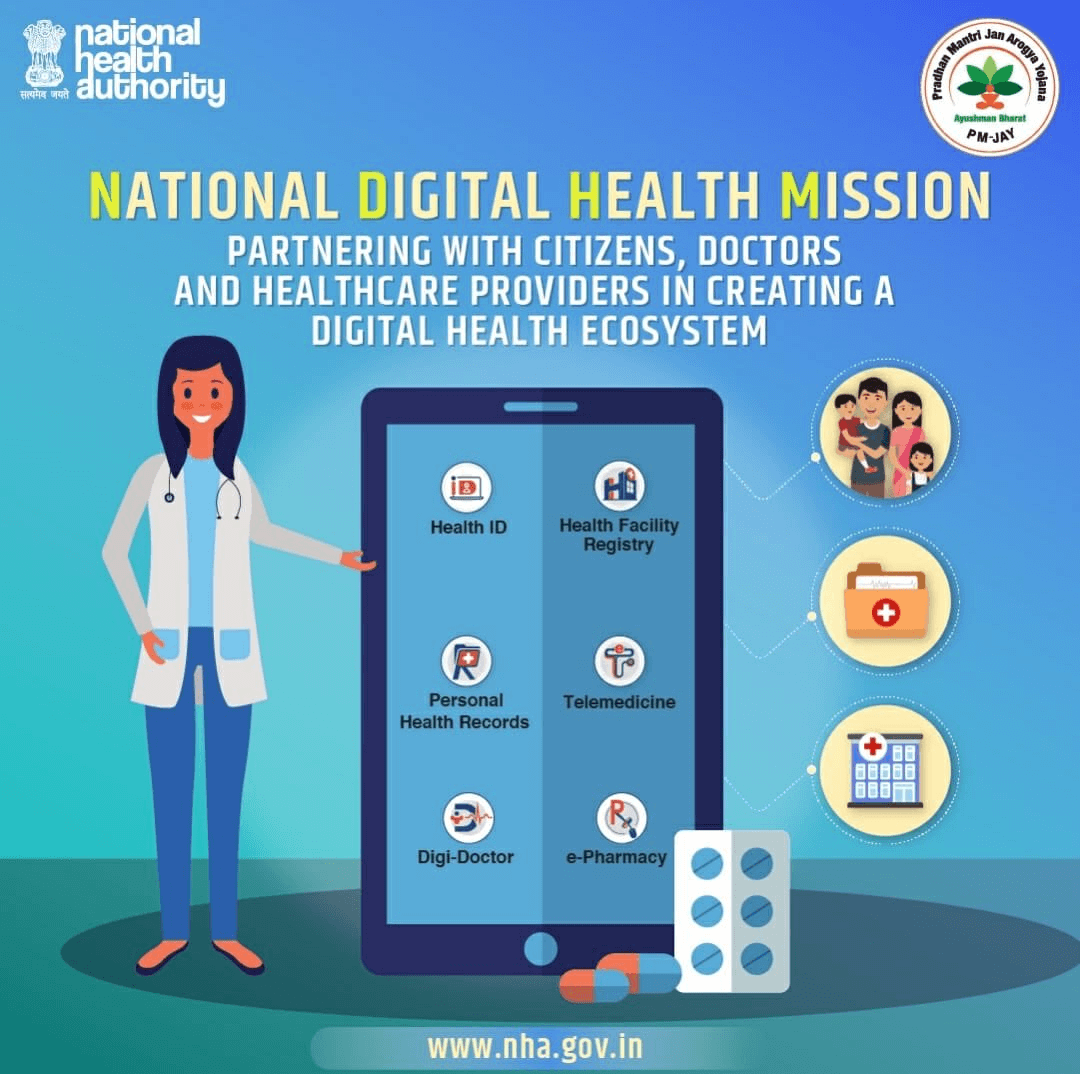 Here are the fine prints of the entire Mission visioned by our honorable PM :
1. The NDHM is a complete digital health ecosystem with personal health IDs for every Indian, digitization of health records as well as a registry of doctors and health facilities across the country.
2. The digital platform is planned to be launched with four key features: Health ID, Personal Health Records, Digi Doctor, and Healthy facility registry.
3. This ID will be applicable across states, hospitals, diagnostic laboratories, and pharmacies.
4. At a later stage, it will also include e-pharmacy and telemedicine services, regulatory guidelines for which are being framed.
5. The platform is voluntary, as it will be up to an individual to get enrolled on the app.
6. Health records will be shared only after authorization by the individual. Similarly, it'll be up to hospitals and doctors to share the details for the app.
7. The Digi Doctor option will allow doctors across the country to enroll, and their details, including their contact numbers (if they want to provide them), will be available.
These doctors will also be assigned a digital signature for free, which can be used for writing e-prescriptions.
8. The government, however, feels the utility of the app will ensure widespread participation.
9. The NHA, the implementing agency for Ayushman Bharat, has created the platform, which will be available in the form of an app and website.
10. The finance ministry has approved a budget of Rs 470 crore for the proposal, but the final NHA proposal may not seek more than Rs 400 crore.
How will NDHM help to save treatment costs?
There are numerous examples of patients, who travel from a small town to the metro city seeking, for example, cancer care has to repeat most of their tests, including the expensive one's such as magnetic resonance imaging (MRI), positron emission tomography (PET), and other imaging tests.
Even biopsy tests are asked to be repeated.
Hence via NDHM, now the doctor/hospital authority needs to mention a genuine reason for asking the repetition of such tests. For instance, the previous test was not performed in a format that's acceptable, or there is a missing piece of information critical to diagnose the case. Also, the patients might not be carrying any of the test reports with them.
Feedback from the experts towards NDHM :
"Providing a unique identification to doctors as well as health facilities can lead to streamlining several issues of quality and accountability," says Charu Sehgal, Partner at Life Sciences and Healthcare Industry Leader, Deloitte India.
"Digital health not only improves a patient's quality of life but it also decreases the overall expenses incurred by a patient over their lifetime, reducing bills for patients and care providers alike," says Dr. Sudarshan Ballal, Chairman, Manipal Hospitals.
Suggested Reads: A glimpse of how Jiyyo envisioned the heath care in dynamic and new India